SANTA'S TOYLAND EXPRESS COACH SEATING
Multiple Dates & Times
Get Tickets
Details
Comments
Event Description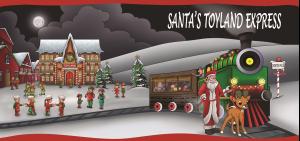 Please carefully read the following TERMS AND CONDITIONS:


EVENT IS RAIN, SNOW, OR SHINE. * Please note: the weather in your particular area may vary from those in other parts of New York/surrounding areas. Check your local and surrounding weather updates to allow time to arrive safely and timely.


ONLY AN OFFICIAL ANNOUNCEMENT FROM NYS WILL CANCEL OUR EVENT DUE TO WEATHER IN OUR AREA in which case, we will post an announcement on our Facebook Page and only then will we attempt to reschedule and/or accommodate those customers for another event.


ALL TICKETS ARE HELD AT WILL-CALL at the Medina Railroad Museum inside at the Ticket Booth and ONLY obtained on the date of your scheduled event. Please check in with the name on the credit card used to make the purchase.


TICKETS ARE NON-PRINTABLE.


TICKETS MUST BE PICKED UP NO LATER THAN 15 MINUTES PRIOR TO BOARDING, or your seats will be forfeited. If you are late, or miss your train, we CANNOT guarantee availability ON ANY FUTURE SCHEDULED TRAINS! No refunds will be given.


ARRIVE AT LEAST 1 HOUR EARLY! Be at the boarding area 15 min prior to your scheduled departure.


TRAINS DEPART ON TIMEfrom 530 West Avenue, Medina, New York, 14103.


TICKETS ARE VALIDONLY for the date/time printed on the ticket.


EVERYONE 1 YEAR AND OLDER is required to PURCHASE a ticket. When purchasing an "Adult with Child on lap" for children under 1 years old - the child will NOT have their own seat, and they share the ticket with the adult.


No smoking on site.


ALL SALES ARE FINAL, NO REFUNDS, NO EXCHANGES.


NO PETS ALLOWED.


NEW: COME HUNGRY! We have a food vendor on site, conveniently located on our grounds, with several meal options, sides, snacks, and beverages to choose from. All items purchased from our vendor may be brought onto the train. No food/beverages from outside Medina Railroad Museum Food Vendor are allowed.
DIRECTIONS and PARKING:


Use the address 698 Gwinn Street Medina NY 14103 for GPS...for our parking area.


Follow Parking Signs


Handicap Parking spaces (only) available in the Museum parking lot (you must have an official Handicap Tag visible)


Additional parking available across the street from the museum in the village municipal lot (West Ave.)


Please be aware that approximately every 45 minutes our train is parked over the crossing at West Avenue for about 20 minutes therefore access to the Railroad Museum lots (Handicap only) and the village municipal lot is inaccessible during those times. To prevent delays: Use the Gwinn Street address to access the overflow parking area and use of the alley on the North side of the museum driveway will give access to the other parking areas.


RESTROOMS: Restrooms are located inside the Museum and on board the train.</