OCTOBER FALL FOLIAGE TRAIN RIDE - SUN. 10/11/2020
Sun. Oct 11, 2020 at 2:00pm EDT
Get Tickets
Details
Comments
Event Description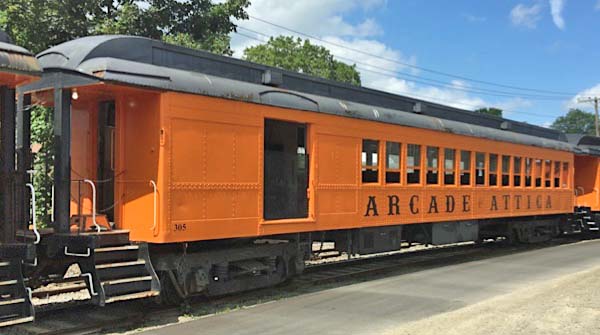 Enjoy a 2 hour and 20-minute round trip train excursion starting at the Train Station Located at 278 Main Street Arcade, New York. At the half way point you will depart the train at Curriers Station where you can do a self-guided tour of Curriers Station. Kids activities and concessions are offered. Restrooms are available on location. are offered. New restrooms are also available.
Terms and Conditions for Train Rides:


When you order your tickets (Available only from purchasing online) you will receive an email confirmation of your seat assignment(s) bring the receipt with you, this will allow you to directly board the train for a contactless check-in. You will go to the train station located at 278 Main Street Arcade the day of the event and board the train directly.


Special Offers are not applicable for all train rides.


Event takes place rain, snow or shine.


Tickets are valid for the date/time printed on the ticket only.


Arrive at least one half-hour early; be at the boarding area 15 min prior to your trains departure. TRAINS DEPART ON TIME from 278 Main Street, Arcade, NY.


Children UNDER 2 years old do not need a ticket. With the purhcase of an adult ticket they may ride on a lap for free.


No smoking on site.


No outside food or beverages.